Description
RX-78GP02A Gundam GP02A (Type-MLRS) is a prototype general-purpose tactical mobile suit and is a variant of the RX-78GP02A Gundam "Physalis". It is featured in the original design series Harmony of Gundam variations by Hajime Katoki.
Alternate equipments for the Gundam Physalis allow it to function as a heavy assault mobile suit. The nuclear warhead is removed and replaced by a six-tube Multiple Launch Rocket System, or MLRS, with three tubes mounted on each side of the backpack. The rockets in the MLRS are almost the size of a cruise missile, and thus can pack a much larger punch. In mid range combat, it can easily bombard a large area, sweeping down a majority of the enemies so that the normal troops can come in to clean up the remaining enemies easily.

For more conventional firepower, the GP02A can be loaded with a particle generator in place of the nuclear warhead and use the atomic bazooka as a heavy beam bazooka. The firepower of beam bazooka can rival that of a mega particle cannon on a large scale mobile armor such as MA-05 Bigro and the full charge shot is roughly equivalent to that of the massive MA-08 Big Zam.
However, none of the aforementioned equipment is used as the GP02A is stolen by Zeon ace Anavel Gato and then used to disable or destroy 2/3 of the Federation space fleet at Konpei Island. The GP02A is later destroyed in a heated battle with the GP01Fb Gundam Zephyrantes Full Burnern.
Art of this kits: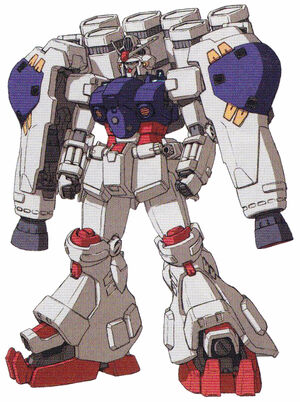 Images