GN-009GNHW/B Seravee Gundam GNHW/B

Arnaments in movies series
i. GN Bazookas
The new GN Bazookas are an overall improvement over Virtue's bazooka. While it can fire the weapon traditionally as a single piece weapon, GN Bazooka IIs has multi-function capabilities and enhancements over its predecessor. The 2 separate bazookas can be combined into a single form that is reminiscent of Virtue's. This design was intentional, due to past experiences with high speed combat enemy units. Virtue's Bazooka might have been powerful, but its beam fire was so slow that it was easy for enemy units to avoid getting shot. The GN Bazooka II can fire faster and can be used in conjunction with GN Cannons for extended range and firepower. When greater firepower is needed, the split bazooka can be attached onto the shoulder GN Cannons to enhance it's firing solution in range and power. As a single piece weapon, the Double Bazooka, it can fire a particle beam sphere.

ii. GN Cannons
Four GN Cannons are attached in between the rear shoulders and knees of Seravee. They are improved versions of Virtue's cannons as they are smaller, lighter, and have greater firing succession rates. The top cannons can work in conjunction with GN Bazooka II for extended range and firepower. In addition, the GN Cannons also works in conjunction with Seravee's GN Field. When all four cannons are deployed, a GN Field is generated at the center. When the cannons fire, the central GN particles and the cannon become a single blast that's comparable to Virtue's GN Bazooka Burst Mode. A hidden ability of the GN Cannons are that they double as transformable MS arms, with their own GN Beam Sabers for melee combat. This feature was added in consideration for Seravee's lack of speed, poor maneuverability, and other deficiencies as a countermeasure(s).

iii. GN Beam Sabers
Seravee has a total of 6 beam sabers, 2 in its MS forearms and 4 hidden within its cannons/MS arms. The additional beam sabers are hidden and only used in dire situations (such as facing close-combat mobile suits).
Users Contribute Product Images
There are no any users contribute images for this item yet.
We offer replacements and refunds for defective items IF the defects occurred during delivery.

The return process is simple. Just take a photo on the defective goods, parcel and consignment note then email us at support@gundam.my.

We will bear the shipping charges for replacements.

The return policy will only be effective for a period of one (1) week from the time you receive it from the shipping agent.
We currently charge shipping fees on "Per Order" basis. Depending on your location and shipping mode the price will vary, please refer to chart below for details.
There are 3 type of delivery you can select:
1. Courier Service by Poslaju / ABX Express / Pos E-Parcel / etc.

Destination
Shipping Method
Delivery Duration
(working days)
Fee (RM)
(Flat Rate)
West Malaysia < 1 KG
Poslaju

2 - 3

8.00
West Malaysia > 1 KG
ABX Express

3 - 5

8.00
East Malaysia < 1 KG
Poslaju

3 - 5

12.00
East Malaysia > 1 KG
Pos Air Parcel

7 - 14

12.00
Singapore
Aramax

4 - 7

40.00
(May vary depend on parcel size)
International
SingPost

14 - 21

depend on parcel size
Note: Please white-list our email address support@gundam.my in your email account, so when we email the shipping status to you, it won't go into the Junk mail folder.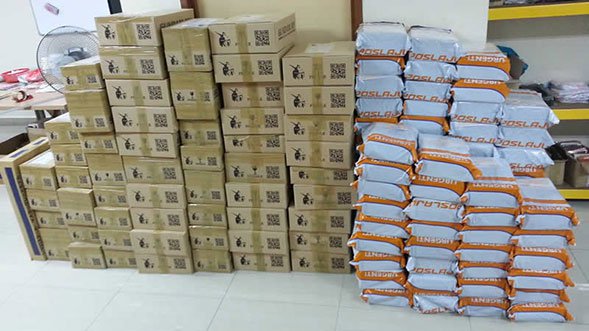 PACKAGING: We use hard cover boxes for all our delivery to avoid damage on the item, kindly refer to the picture above for our packaging