Accessories: beam saber × 2, the propellant tank × 2, mount parts for action based
- Item Size : 31 x 20 x 10 cm.

Wikipedia
After the Gryps Conflict of UC 0087, The Earth Federation reclaimed the data of the RX-160 Byarlant, being only non-transformable mobile suit with sustained atmospheric flight ability. However this never happened until in UC 0096, in where the mobile suit researchers redeveloped the said mobile suit into the RX-160S Byarlant Custom. The Byarlant Custom possesses enhanced speed, agility, and self-sustained atmospheric flight over the original and its capabilities were achieved through the incorporation of powerful thrusters in its shoulders, waist, and back with two large-capacity fuel tanks in its back to keep the thrusters fueled. It also has new feet design derived from the NRX-055 Baund Doc, the heels and toes can be fold into claws.
Being testbed mobile suit, it doesn't fix Byarlant's flaw at limited armaments. Instead, Byarlant Custom is refitted with parts from various Titans' mobile suit.
The Mono-eye sensor was replaced with EFF standard compound type sensors. Two Byarlant Custom units were produced at Torrington Base: Unit 01, fitted with leg units and claw manipulators derived from the RX-110 Gabthley, and Unit 02, which was scheduled to be equipped with a thruster unit developed from the ORX-005 Gaplant. Development staff have referred to the project as a composite "creature" (Chimera) of Titans mobile suits.
Weapons
Mega Particle Cannon - A fixed armament mounted on Byarlant Custom's forearms, it works as the only range weapons the mobile suit has, the power is rated at 4.7MW. It seems to have a higher rate of fire in place of beam thickness, but that in no way makes it any less dangerous.

Beam Saber - Unlike the original Byarlant, there are no beam sabers stored in the recharge racks of the arms. Instead the beam saber is made with the mega particle cannon emitter on each arm.

Claw Arm - Since its production, the Byarlant Custom were armed with two claw arms for close combat. These can be only used if the power supply of the mobile suit is low. The claw arms taken from the Gabthley seem stronger, but are even more unsuitable for wielding weapons.

The Assault of Torrington Base
The Byarlant Custom was first deployed against the Zeon remnants during the assault of Torrington Base. During its first deployment the Byarlant Custom destroyed multiple Zeon remnant mobile suits, including two AMS-129M Zee Zulu. The Byarlant Custom pushed back the Zeon remnant forces with the help of Londo Bell's Tri-Stars mobile suit team and other Earth Federation forces.
Users Contribute Product Images
There are no any users contribute images for this item yet.
We offer replacements and refunds for defective items IF the defects occurred during delivery.

The return process is simple. Just take a photo on the defective goods, parcel and consignment note then email us at support@gundam.my.

We will bear the shipping charges for replacements.

The return policy will only be effective for a period of one (1) week from the time you receive it from the shipping agent.
We currently charge shipping fees on "Per Order" basis. Depending on your location and shipping mode the price will vary, please refer to chart below for details.
There are 3 type of delivery you can select:
1. Courier Service by Poslaju / ABX Express / Pos E-Parcel / etc.

Destination
Shipping Method
Delivery Duration
(working days)
Fee (RM)
(Flat Rate)
West Malaysia < 1 KG
Poslaju

2 - 3

8.00
West Malaysia > 1 KG
ABX Express

3 - 5

8.00
East Malaysia < 1 KG
Poslaju

3 - 5

12.00
East Malaysia > 1 KG
Pos Air Parcel

7 - 14

12.00
Singapore
Aramax

4 - 7

40.00
(May vary depend on parcel size)
International
SingPost

14 - 21

depend on parcel size
Note: Please white-list our email address support@gundam.my in your email account, so when we email the shipping status to you, it won't go into the Junk mail folder.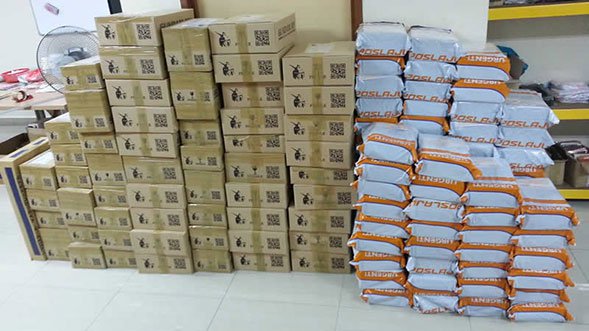 PACKAGING: We use hard cover boxes for all our delivery to avoid damage on the item, kindly refer to the picture above for our packaging