Very sharp high-grade Strike Freedom Gundam comes molded in all the right colours and features snap-fit assembly. Clear parts for the Beam Shield and Super Dragoon are included. Foil stickers add detail to the finished model.

Technology & Combat Characteristics
Strike Freedom features highly enhanced offensive and defensive capabilities. Unlike its predecessor, the Freedom (which can be categorized as a medium range mobile suit), the Strike Freedom excels in various ranges to suit the combat needs and style of its Coordinator pilot Kira Yamato, who often had to utilize Freedom in close quarter battles, aided by the its high mobility, in order to more-easily avoid striking or shooting at the cockpits or other vital parts (those that can cause catastrophic explosions) of his opponent's mobile suits and to only incapacitate them or otherwise prevent them from continuing a fight.

The trademark feature of the Strike Freedom is it's ability to lock onto multiple targets which is known as "Full Burst Mode". This ability is also shared by the original Freedom, as well as by the ZGMF-X13A Providence, ZGMF-X09A Justice, ZGMF-X19A ∞ Justice and the MVF-M12A Ootsukigata.

The DRAGOON system (click http://www.youtube.com/watch?v=FC_VqRQzU_U to have a knowledge of the dragoon system), the latest addition to the mobile suit itself, is believed to have benefitted from the new quantum computer technology developed by ZAFT. This allows pilots lacking enhanced spatial awareness to operate remote weapons with relative ease and, together with the HiMAT mode, Kira Yamato is now able to more-freely position his firepowers and engage multiple targets from multiple directions if needed to. This is a considerable improvement over the Freedom's only being able to fire in a forward direction, now giving the Strike Freedom a full 360 degree attack range.

Strike Freedom's modified "Voiture Lumière" booster engine, which is a different variant of Stargazer's, is located on its wings and can generate a visual effect similar to ZGMF-X42S Destiny's Wings of Light. This has been shown to be achievable only when the Strike Freedom deploys all of its DRAGOONs, leaving the thrusters unobstructed in the remote weapons' docking sections to create this effect.

As with Freedom, the unit is compatible with the METEOR weapon system to augment its already impressive firepower.

source:wikipedia

Strike Freedom Gundam




Strike Freedom Gundam - Full Blast Mode




Strike Freedom Gundam - Perfect Grade


Users Contribute Product Images
There are no any users contribute images for this item yet.
We offer replacements and refunds for defective items IF the defects occurred during delivery.

The return process is simple. Just take a photo on the defective goods, parcel and consignment note then email us at support@gundam.my.

We will bear the shipping charges for replacements.

The return policy will only be effective for a period of one (1) week from the time you receive it from the shipping agent.
We currently charge shipping fees on "Per Order" basis. Depending on your location and shipping mode the price will vary, please refer to chart below for details.
There are 3 type of delivery you can select:
1. Courier Service by Poslaju / ABX Express / Pos E-Parcel / etc.

Destination
Shipping Method
Delivery Duration
(working days)
Fee (RM)
(Flat Rate)
West Malaysia < 1 KG
Poslaju

2 - 3

8.00
West Malaysia > 1 KG
ABX Express

3 - 5

8.00
East Malaysia < 1 KG
Poslaju

3 - 5

12.00
East Malaysia > 1 KG
Pos Air Parcel

7 - 14

12.00
Singapore
Aramax

4 - 7

40.00
(May vary depend on parcel size)
International
SingPost

14 - 21

depend on parcel size
Note: Please white-list our email address support@gundam.my in your email account, so when we email the shipping status to you, it won't go into the Junk mail folder.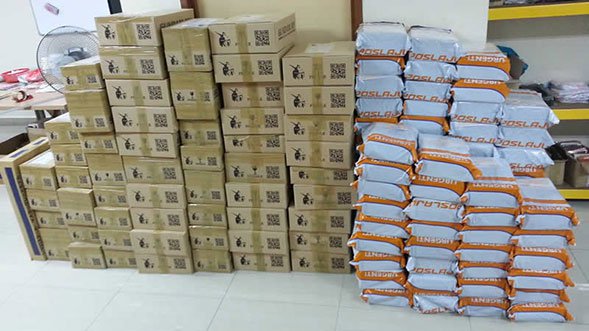 PACKAGING: We use hard cover boxes for all our delivery to avoid damage on the item, kindly refer to the picture above for our packaging