Accessories: beam rifle, a dedicated base. Simple instruction included in a box.
History:
The Raphael Gundam was first deployed by Tieria Erde during Celestial Being's first attempted contact with the ELS. During this mission, Setsuna F. Seiei used the 00 Raiser Condenser Type and attempted to make contact with the ELS, but his attempt failed and the ELS attacked, with two ELS hitting the 00 Raiser's left arm and beginning to assimilate. However, Tieria arrived in the Raphael to assist, forcibly ripping off the 00 Raiser's left arm and saving the rest of the machine from assimilation, allowing Celestial Being to escape. Raphael's second deployment was during Setsuna's second attempt to communicate, this time using a combination of the Raiser System and Trans-Am to produce a Trans-Am Burst-like effect and expand his quantum field of communications. However, the ELS reacted violently and delivered a crippling mind attack to Setsuna, rendering him comatose and leaving the 00 Raiser open to assimilation. In his desparation to save Setsuna, Tieria quickly revealed the true form of Raphael's backpack, GN-008RE Seravee Gundam II. Using his quantum brainwaves, Tieria used the Seravee to forcibly rip the 00 Raiser's cockpit from the rest of the machine. After handing the cockpit to Lockon Stratos in the GN-010 Gundam Zabanya, Tieria took it upon himself to hold off the ELS long enough for Lockon to escape with Setsuna. However, even with his quantum brainwaves, the Seravee, and Raphael's Trans-Am System activated, Tieria was eventually overwhelmed by the ELS and suffered a mind attack of his own, leaving both the Raphael and the Seravee open to attack. Tieria's physical body, the Raphael and the Seravee were assimilated along with the 00 Raiser, forcing Tieria to return to Veda.
Users Contribute Product Images
There are no any users contribute images for this item yet.
We offer replacements and refunds for defective items IF the defects occurred during delivery.

The return process is simple. Just take a photo on the defective goods, parcel and consignment note then email us at support@gundam.my.

We will bear the shipping charges for replacements.

The return policy will only be effective for a period of one (1) week from the time you receive it from the shipping agent.
We currently charge shipping fees on "Per Order" basis. Depending on your location and shipping mode the price will vary, please refer to chart below for details.
There are 3 type of delivery you can select:
1. Courier Service by Poslaju / ABX Express / Pos E-Parcel / etc.

Destination
Shipping Method
Delivery Duration
(working days)
Fee (RM)
(Flat Rate)
West Malaysia < 1 KG
Poslaju

2 - 3

8.00
West Malaysia > 1 KG
ABX Express

3 - 5

8.00
East Malaysia < 1 KG
Poslaju

3 - 5

12.00
East Malaysia > 1 KG
Pos Air Parcel

7 - 14

12.00
Singapore
Aramax

4 - 7

40.00
(May vary depend on parcel size)
International
SingPost

14 - 21

depend on parcel size
Note: Please white-list our email address support@gundam.my in your email account, so when we email the shipping status to you, it won't go into the Junk mail folder.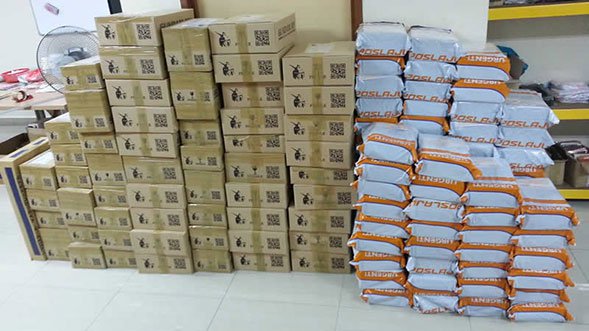 PACKAGING: We use hard cover boxes for all our delivery to avoid damage on the item, kindly refer to the picture above for our packaging