BB217 RX-178 Gundam Mk II Titans Plastic Model Kit.

Stories:
Developed by new faction, TITANS, which is an elite soldiers group formed by Earth Federation and Zeon remnants, there are three MS that operated. It has new technology called Moveable Frame, so it can move even without its outer armor attached. Weapons included: Beam Rifle, Hyper Bazooka, Beam Saber 2X, Shield, Energy Pack 2X, and a Bazooka Cartridge.

Two suits were successfully stolen by Camille, Quattro, and his subordinates during Quattro's mission to spying this Gundam at Green Noah colony. Camille hatred towards TITANS made him crazy enough to hijack one of the Gundam. Seeing it as a great opportunity, Quattro and his mates help Camille escape the Colony along with the Gundams, unit 3 piloted by Camille while the other (unit 1) is taken by force.
After safely arrived at A.E.U.G. battle ship, Argama, they had the Gundam re-colored to A.E.U.G. white and blue scheme. It was piloted by Camille until half of the story before he changed to Zeta Gundam. The pilot then changed to Emma Sheen, a former TITANS soldier who has changed side to A.E.U.G. because she hated the way TITANS works. It can be combined with G-Defenser for more mobility and fire power in space.

The Movable Frame concept actually taken by Camille for Zeta Gundam because of some problems that Zeta has before applying the concept. Near the end of series, Gundam Mk-II was destroyed along with Emma's tragic death.

Story Source: http://eyeshield30.wordpress.com
Weight: 130g

LIMITED STOCK AVAILABLE NOW!
Users Contribute Product Images
There are no any users contribute images for this item yet.
We offer replacements and refunds for defective items IF the defects occurred during delivery.

The return process is simple. Just take a photo on the defective goods, parcel and consignment note then email us at support@gundam.my.

We will bear the shipping charges for replacements.

The return policy will only be effective for a period of one (1) week from the time you receive it from the shipping agent.
We currently charge shipping fees on "Per Order" basis. Depending on your location and shipping mode the price will vary, please refer to chart below for details.
There are 3 type of delivery you can select:
1. Courier Service by Poslaju / ABX Express / Pos E-Parcel / etc.

Destination
Shipping Method
Delivery Duration
(working days)
Fee (RM)
(Flat Rate)
West Malaysia < 1 KG
Poslaju

2 - 3

8.00
West Malaysia > 1 KG
ABX Express

3 - 5

8.00
East Malaysia < 1 KG
Poslaju

3 - 5

12.00
East Malaysia > 1 KG
Pos Air Parcel

7 - 14

12.00
Singapore
Aramax

4 - 7

40.00
(May vary depend on parcel size)
International
SingPost

14 - 21

depend on parcel size
Note: Please white-list our email address support@gundam.my in your email account, so when we email the shipping status to you, it won't go into the Junk mail folder.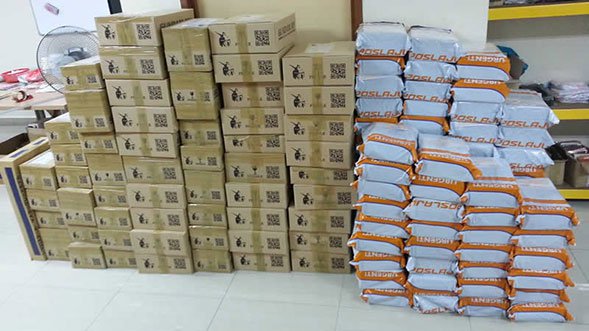 PACKAGING: We use hard cover boxes for all our delivery to avoid damage on the item, kindly refer to the picture above for our packaging