- A melee combat type MS developed by a new organization in the world of SEED VS Astray. - Backpack is compatible with that of Hail Buster Gundam. - Weapons: beam rifle, beam saber x2, shield, customized anti-ship sword x2, "Armor Schneider" combat knife x2 - Total 10 runners, foil sticker and clear sticker includedGale Strike Armaments (as per anime)Mounted in the Gale Strike's head are two "Igelstellung" 75mm multi-barrel CIWS guns. These light projectile weapons are used to intercept missiles and to destroy lightly armored vehicles.Beam SaberAs the Shield Striker's basic structure is derived from that of the Aile Striker, it is equipped with two beam sabers, stored on racks mounted over the shoulders of the Gale Strike.Armor Schneider Combat KnifeStored in holsters mounted on the elbows, these are the same knives used by the GAT-X105 Strike Gundam."Wing Saw" Anti Ship SwordsEquipped in it's Shield Striker, these are Serrated, anti-ship swords with anti-beam coating used for close combat. It's also used as stabilizer wings while the MS is in flight. this weapon is very effective against mobile armors, mobile suits and even ships. The Wing Saws have a data-gathering functionality similar to the katana of the MBF-P05LM Astray Mirage Frame . If the blade is unable to cut through an object, this ability changes the frequency at which the saw blade vibrates, increasing its cutting power. This enables it to easily cut through even Phase Shift Armor.57mm Beam RifleLike the Strike, it is equipped with a 57mm high-energy beam rifle.Source:wikipediaReview by Prime 92 on youtube:
Users Contribute Product Images
There are no any users contribute images for this item yet.
We offer replacements and refunds for defective items IF the defects occurred during delivery.

The return process is simple. Just take a photo on the defective goods, parcel and consignment note then email us at support@gundam.my.

We will bear the shipping charges for replacements.

The return policy will only be effective for a period of one (1) week from the time you receive it from the shipping agent.
We currently charge shipping fees on "Per Order" basis. Depending on your location and shipping mode the price will vary, please refer to chart below for details.
There are 3 type of delivery you can select:
1. Courier Service by Poslaju / ABX Express / Pos E-Parcel / etc.

Destination
Shipping Method
Delivery Duration
(working days)
Fee (RM)
(Flat Rate)
West Malaysia < 1 KG
Poslaju

2 - 3

8.00
West Malaysia > 1 KG
ABX Express

3 - 5

8.00
East Malaysia < 1 KG
Poslaju

3 - 5

12.00
East Malaysia > 1 KG
Pos Air Parcel

7 - 14

12.00
Singapore
Aramax

4 - 7

40.00
(May vary depend on parcel size)
International
SingPost

14 - 21

depend on parcel size
Note: Please white-list our email address support@gundam.my in your email account, so when we email the shipping status to you, it won't go into the Junk mail folder.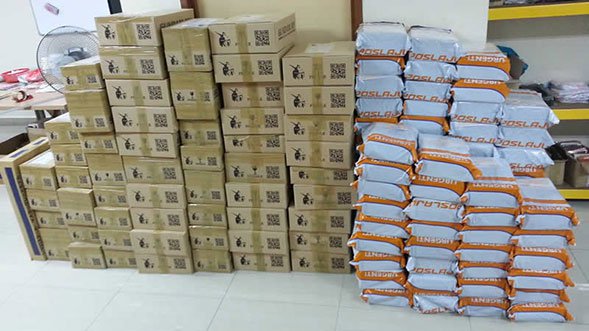 PACKAGING: We use hard cover boxes for all our delivery to avoid damage on the item, kindly refer to the picture above for our packaging