Extreme Rare Item !!!
The Huge Gunpla set!
Over one meter (40 inches/ 100cm) long from the tip of the main gun barrel to the rear fins.
It includes with the 1/144 scale GP-03S Gundam.
Kit is packed with features, including opening weapons bays, posable claw arm manipulators, two large-size beam sabres, removable I-field generator, micro-missile pod, cluster missile pod, guided bombs and more, display stand.Gundam Unit that's worth collectionTechnical and Historical Notes:During its military reconstruction following the devastating One Year War, the Earth Federation contracted a private company, Anaheim Electronics, to develop a series of new Gundam-model mobile suits to serve as conceptual testbeds for new and improved mobile suit technology. The third of these new prototypes to be produced by Anaheim was the RX-78GP03 Gundam, code-named "Dendrobium." The Dendrobium was composed of two units: the RX-78GP03S Gundam mobile suit itself, code-named "Stamen"; and the large RX-78GP03 Gundam mobile weapon unit, code-named "Orchis." The Orchis was an unmanned unit, and required the Stamen - which itself had a pilot - to be docked with it for it to function. Since the GP03 Dendrobium was designed as a defense unit for space installations capable of taking on enemy mobile armor, the Orchis component was basically a large spacegoing vehicle, equipped with enough thrusters to make it a fast interception unit. Its primary heavy armament was a large mega beam cannon, mounted on its own movable arm for aiming, and it also had two large claws which incorporated large beam sabers capable of slicing up something as large as a battleship. The Orchis also mounted an external I-field barrier generator, giving the GP03 complete 360-degree protection from enemy beam weapons fire. For versatility, it also mounted two large weapons container pods, which could carry a variety of weapons from micromissile launcher pods to battleship-sized demolition chain mines. Spare weapons containers could be loaded out ahead of time, and the Orchis could have empty pods changed out for new ones in a matter of minutes.
The GP03S Stamen was completed at Anaheim's Von Braun City lunar factory and delivered to their La Vie en Rose research dockship, where the Orchis component had also been completed. The only thing left to make the GP03 field-ready was piloting and combat data. However, with the shutdown of the Gundam Development Project, Earth Federation Forces security officer Nakahha Nakato dismissed all of the Anaheim research staff except for systems engineer Lucette Audevie. With the threat of the Delaz Fleet and the impending colony drop crisis, Lucette strongly argued for the GP03's completion, all to no avail. To face this desparate situation, Gundam pilot Kou Uraki and the crew of the assault carrier Albion literally hijacked the GP03 - with the assistance of Lucette and at the cost of her life - and quickly fielded the Dendrobium, proving to be a devastating foe to the Delaz fleet escorting their hijacked colony falling towards Earth.RX78 + GP03's Extreme battle:
Love the way when it fires the Micromissile pod~~wuuhuu~~
Reference from:
http://www.mahq.net/
www.flickr.com
Users Contribute Product Images
We offer replacements and refunds for defective items IF the defects occurred during delivery.

The return process is simple. Just take a photo on the defective goods, parcel and consignment note then email us at support@gundam.my.

We will bear the shipping charges for replacements.

The return policy will only be effective for a period of one (1) week from the time you receive it from the shipping agent.
We currently charge shipping fees on "Per Order" basis. Depending on your location and shipping mode the price will vary, please refer to chart below for details.
There are 3 type of delivery you can select:
1. Courier Service by Poslaju / ABX Express / Pos E-Parcel / etc.

Destination
Shipping Method
Delivery Duration
(working days)
Fee (RM)
(Flat Rate)
West Malaysia < 1 KG
Poslaju

2 - 3

8.00
West Malaysia > 1 KG
ABX Express

3 - 5

8.00
East Malaysia < 1 KG
Poslaju

3 - 5

12.00
East Malaysia > 1 KG
Pos Air Parcel

7 - 14

12.00
Singapore
Aramax

4 - 7

40.00
(May vary depend on parcel size)
International
SingPost

14 - 21

depend on parcel size
Note: Please white-list our email address support@gundam.my in your email account, so when we email the shipping status to you, it won't go into the Junk mail folder.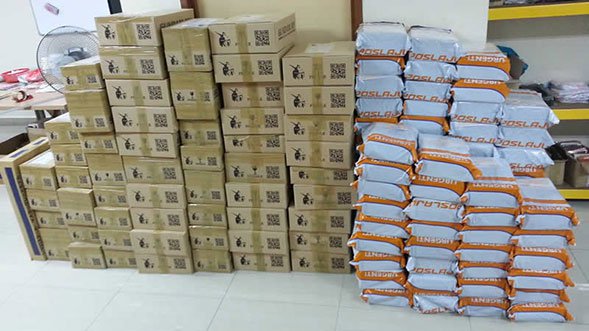 PACKAGING: We use hard cover boxes for all our delivery to avoid damage on the item, kindly refer to the picture above for our packaging